How to boil spaghetti and other italian pasta
There are few basic rules to learn how to cook perfectly al dente your pasta.
The basic rule to cook is 10+100+1000, means 10gr of salt for 100gr of pasta boiling in a liter of water.
This rule is very simple and easy to remember, 100gr are an average serving of pasta, so you just have to multiply for the number of guests and that's it.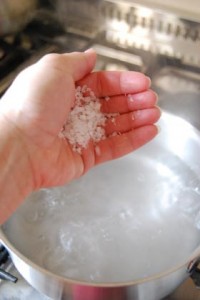 Here are the basic steps to cook perfectly you pasta (for 4 servings):
Ingredients:
4lt of water
400gr of pasta
40gr of salt
1. Bring to a boil  the water in a big pot
2. When it comes to a boil add the salt
3. As soon as it boils again, pour the pasta and stir immediately after.
Stir frequently while cooking.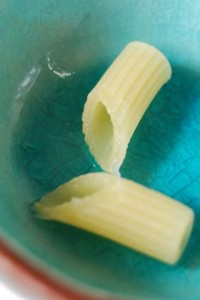 4. Check the cooking point a couple of minutes earlier that the direction on the package.  To check the pasta take a piece and put it on a plate, cut it in half with a fork. If you can see a thin white line on the inside (see picture on the right), it means that the pasta is ready.You should anyway taste it to check if it's not too hard.
The thinner the white line is, the more the pasta is cooked. Be careful not to overcook it, otherwise you will loose the perfect "al dente" texture.
If you use less water you will get a stickier pasta, and the texture won't be perfectly al dente.
Many chefs in restaurants usually drain the pasta few minutes earlier, to stir it in the pan with the sauce, this way the pasta will get the flavors of the sauce and finish the cooking in the pan.
This operation requires a little practice, because you have to be careful to use the right amount of liquid to finish the cooking. If you are cooking a sauce that already contains a good quantity of liquids (for example a tomato sauce) you will need just a little of the cooking water to stir it instead, if you are preparing a white sauce with vegetables and the extra moisture is gone, you will need more water.