Almond cookies
2012-09-12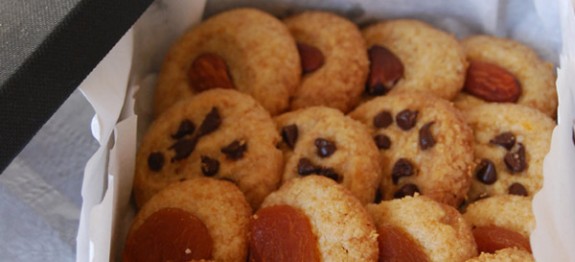 Prep Time :

40m

Cook Time :

15m

Ready In :

55m
Want to know something new? I've got a really easy recipe to create some wonderful almond cookies ! I was looking for an easy recipe to  prepare something I could give as a gift to a friend of mine, and I came across the classic four fourth cake recipe, that consist in equal parts of each ingredients: weight 4 eggs and add the same weight of butter, flour and sugar and some baking powder. You will get a soft and tasty cake.
Then I thought that I could apply the same concept to a cookie recipe and, since I truly love almonds, I've tried this one, it came out a wonderful idea and, most of all, it's really easy you can prepare those cookies with your kids and let them choose their favorite shape and decorations.
Ingredients
130gr of grounded almond
130gr muscovado sugar (you can substitute with caster sugar)
130gr of regular flour
130gr butter
chocolate chips, dried apricots, almonds or any dried fruit you like
Method
Step 1
Put all the ingredients in a food processor and turn it on. Let it mix until it gathers and turn into a ball. Put the dough on the cutting board and knead for 30 seconds to make it silky. Cover your hands with flour because the dough is very greasy.
Step 2
Flatten the dough with a rolling pin and cut it into equal shape pieces. You can also cut it with your favorite cookie cutters. Just use your fantasy! I made little balls and then I flattened them with a fork to give them this striped shape on top. I've put dried apricots, chocolate chips and almonds on top to create a funny decoration. To make them stick to each cookie I've pushed them a little with my finger.
Step 3
Put in the fridge for 30/40 minutes and then put in a preheated oven at 180°C for 15/20 minutes. Let the cookies cool down completely to fully enjoy their unique texture.
SUGGESTIONS
You can wrap these cookies in a nice box and use them as a wonderful home made Christmas gift, what do you think?
Recipe Comments