Home made Italian rusks
2012-05-29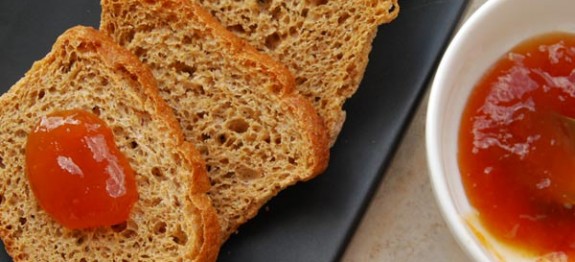 Yield :

3 loaves

Prep Time :

2:25 h

Cook Time :

45m

Ready In :

24:0 h
It's really common in Italy to eat rusks for breakfast, spread with some butter and home made marmelade, and you will have the perfect balance of nutrients to start the day! Learning how to make them at home is not to complicated, you just need a little practice and some patience and you will get the best rusks ever!
Ingredients
500 gr di whole wheat flour
75gr muscovado sugar
225gr of water
1 egg white
2 tbsp of shortening or butter
1 tsp of malt, honey or maple syrup or molasses
15gr of fresh yeast
1 pinch of salt
1 egg yolk and a tbs of milk
Method
Step 1
Dissolve the fresh yeast in the water (start with 210gr if you need more you can add later) with the malt and let it sit for about 5 minute. Mix all the ingredients together (except salt) until you get a soft and smooth dough. Add the salt and keep on kneading the dough for about 20 minutes (either you do it by hands or with a stand mixer)
Step 2
Let the dough rest for about 30 minutes at room temperature, covered with a plastic wrap.
Step 3
Divide the dough into three pieces, knead them a little to remove the excess air, and roll them into cylinders. Let them rest for 10 to 15 minutes.
Step 4
After the rest, take the three cylinders, knead them a little and then roll tight again into loaves. Seal the bottom part of the dough carefully. Lay on a sheet of parchment paper and spread with the yolk beaten with the milk. Let the loaves ferment for about 1 hour at a temperature around 28°C.
Step 5
When the dough has doubled in size, spread again with the yolk mixture adn put in the oven at 200°C for about 45 minutes. If the surface becomes too brown after 30 minutes, low the heat to 180°C and cover the loaves with parchment paper.
Step 6
Let it cool on a wire rack. When cooled, let the loaves rest for 18 to 24 hours at a temperature around 18° to 20°C, or in the coolest room of the house.
Step 7
Slice the loaves into 8mm slices and put in the oven, preheated at 140°C. Let the slices dry in the oven (leave the door of the oven slightly opened). they will become golden brown and any moisture will evaporate.
Step 8
You can keep the rusks in a tight container or (much better) into a biscuit can.
Recipe Comments