Peach jam
2012-09-17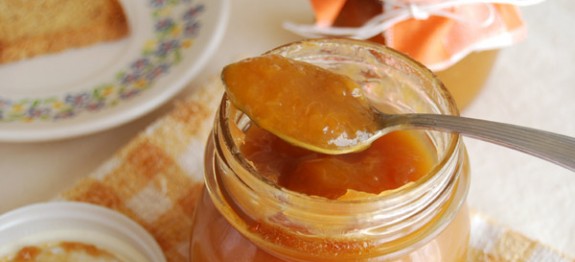 Yield :

8/10 jars

Prep Time :

20m

Cook Time :

20m

Ready In :

40m
In the morning I usually have breakfast with cappuccino, rusks and jam, and the jam I like the most is the peach jam. I must say that I'm not used to buy jams, because the ones you find in the grocery stores are too sugary and, moreover,  I can't be sure how the fruits used were grown.
Some might say that preparing a jam is a long and painstaking process and that you have to spend half day cooking: I will prove you that it's possible to make jams in less than an hour.
This way you can do it whenever you like, and you will have lot of healthy jam for months!
In many places fruits are grown with a lot of pesticides, so you better find out someone who grows them organically. If you can't find organic fruit, then you better wash it carefully with the use of some baking soda, or peel it, because usually the pesticides accumulates in the peel.
This recipe is also low in sugar, so you can taste the true flavor of the fruit, you can use the same ingredients for apricots or plums.
Ingredients
2,3kg of peaches (should be 2kg when stoned)
1kg of sugar
1 pack of apple pectin
2 stick cinnamon (optional)
Method
Step 1
Sterilize the jars by boiling them for 20 minutes, or putting them in the oven at 160° for 30 minutes (after washing them). Dry them on a clean cloth upside down.
Step 2
Wash carefully and then stone the peaches. Cut them into chunks and put them into a large saucepan (about 4lt/5lt of capacity). Do not use smaller pan, the jam will boil and it will be very difficult to stir it.
Step 3
Add the sugar and the pectin, mix evenly and turn on the heat. Bring to a boil the peach jam and use a hand blender to remove the chunks and blend the jam evenly. Let it cook for about 10 to 15 minutes.
Step 4
To test the consistency of the jam pour a teaspoon of over a little dish, tilt it and see how fast it slips to the side. It must be very think and it should slip very slowly (a sort of thick cream), when cooled it will be thicker.
Step 5
Fill the jars when the jam is still hot, cover with the lids and put them upside down to seal them airtight. Let them cool down then store in a dark and dry place.
Recipe Comments