Quick veggie gratin
2012-06-14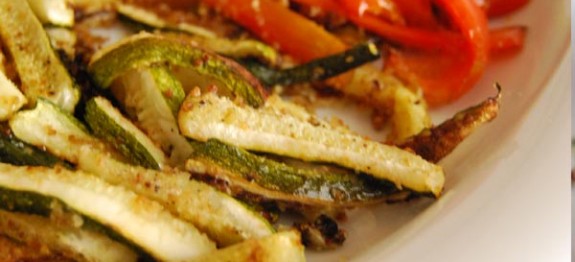 Servings :

4

Prep Time :

10m

Cook Time :

45m

Ready In :

60m
Ok, by the time you will have finished reading this recipe, you will say, REALLY?!!? is it that easy?  You will just have to try this recipe. This is one of my favorite for the summer, you can prepare it in advance and serve even cold with some cheese, olives and a big loaf of bread. These veggies are perfect on a bruschetta or, if you want to taste something special, with some buffalo mozzarella. It's perfect to eat some light and tasty vegetables.
You can try this recipe with every kind of vegetables you like, I recommend zucchini and peppers, but you should try it with onions, fenil or even lightly boiled potatoes.
Ingredients
2 zucchini 2 big peppers (you can choose two different colors to make the dish look even better)
2 tbsp of olive oil
salt and pepper
dried minced garlic or fresh finely chopped garlic
3 tbsp of breadcrumbs
Method
Step 1
Wash well, remove the stems and the seeds from the peppers and cut them into stripes. Cut the zucchini lengthwise into slices then into 7mm sticks. Preheat the oven at 180°C.
Step 2
Lightly grease a large baking tray by spreading a little oil with your hands. Lay the vegetables on the tray and sprikle it with a little oil. Mix the vegetable with your hands to let the oil cover evenly every piece. Sprinkle with the dried garlic, salt, pepper and the breadcrumbs.
Step 3
Put in the oven for 40 to 50 minutes, mixing from time to time, to avoid the vegetables from sticking to the bottom of the tray. When cooked, serve on a tray.
Recipe Comments