Roasted pork with porcini mushrooms
2012-09-18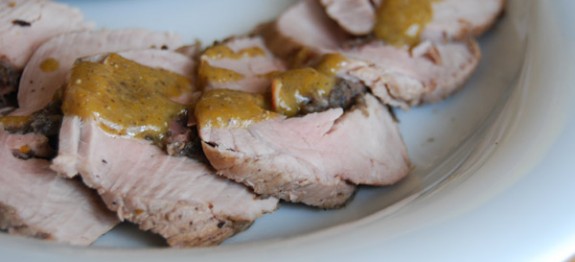 Servings :

4

Prep Time :

15m

Cook Time :

35m

Ready In :

50m
I bet the most popular dish with porcini mushrooms abroad is the risotto. Well today i would like to show you that porcini go very well with meat, especially pork meat.
This roasted pork is really perfect for this time of the year when fall approaches and the temperatures are sligthly lower, pair it with a good fresh home made pasta recipe and a salad and you will have your perfect italian sunday lunch.
Ingredients
500gr or pork fillet
5 fresh porcini or 10gr of dried porcini
6 slices of speck from Trentino
1 big potato
1 carrot
1/2 celery stick
1 glass of wine (I used a white wine, you can also use red)
150ml of hot broth
2 tbsp of breadcrumbs
1 tbsp + 1 tsp of corn or potato starch
5gr of butter
salt, pepper and 1 tbsp of olive oil
Method
Step 1
Peel the potato and boil it. Cut the mushrooms and half carrot into chunks (if you are using dried mushrooms, soak them in warm water for 15 min. then drain and keep the water for later). Put the boiled potato, mushrooms, carrots, breadcrumbs, and 1 tbsp of starch in a food processor and turn it on until you get a thick paste.
Step 2
Lay the fillet on the cutting board, cut it open until it it is 15cm wide. You can ask your butcher to do so. Sprinkle with salt and pepper and spread the filling onto it evenly. Roll it up and close it with a kitchen string.
Step 3
Cut the remaining carrot, the celery and the onion and put them into a casserole with the oil. Let it cook for a couple of minutes then add the meat. Brown lightly the surface of the meat than add half glass of wine.
Step 4
Let the wine evaporate then add the broth or the liquid of the dried mushrooms. In this case be careful not to pour also the dust that has sank to the bottom. Let the meat cook for about 20 minutes covered with a lid, then remove the lid and let it cook for another 10 minutes. You can check the meat with a bamboo skewer, if it pierce the meat easily it is cooked. Do not overcook the meat, otherwise it'll become too hard and gummy.
Step 5
Remove the meat from the pan and add the butter, the remaining wine and the teaspoon of starch. Mix evenly and let it cook until it thickens. Now you can sift it to have a silky gravy or you can blend it to get a more rustic sauce. Now slice the meat and serve it on to a plate with the gravy.
Recipe Comments