Wine doughnuts – simple and rustic food
2012-09-10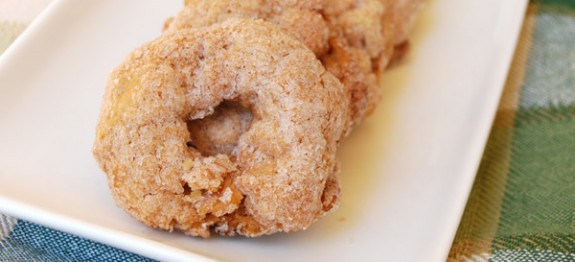 Yield :

35/50

Prep Time :

15m

Cook Time :

20m

Ready In :

35m
When I was a little girl this recipe was one of my favorite. I remember  it was easy and funny, perfect for a child! The taste, I assure you, is really amazing. These doughnuts are often eaten, by adults, dipped in red wine and by children dipped in milk.
These doughnuts are often made for  local fairs, and you can still find them in old bakeries. Anytime I see them I think about my childhood, and how beautiful it was to prepare my own cookies.
Nowadays children are too much into packed snacks, filled with a lot of sugar that is the main responsible for obesity and health problem. People think that cooking at home is difficult, that you need particular skills to do it but I just want to show you how easy can be to prepare a healthy snack and have fun with your kids.
The classical recipe for these douhgnuts is 1 glass for each ingredient, and the flour you need to knead the dough. I've tried this one, with less oil and sugar, the result is perfect, even better that the original recipe, but with less calories and fats!
Ingredients
1 glass of wine (I used a Nero d'Avola a sicilian red wine, you can also use a chardonnay - the taste will be slightly different depending on the type of wine you're using)
3/4 glass of extra virgin olive oil
3/4 glass of sugar
flour to knead the dough (I used about 350gr)
a pinch of baking soda
Method
Step 1
Preheat the oven at 180°C. In a bowl mix the wine, the oil and 1/2 glass of sugar.
Step 2
Mix the flour with the baking soda and then add it a little at a time, until the dough becomes enough thick and silky to be rolled into cylinders.
Step 3
Pour the remaining sugar on a plate, and cover a large baking tray with the parchment paper. Roll little pieces of though and shape them into doughnuts. Place each cookie on the plate with the sugar and coat it evenly. Line the cookies in the tray and bake for 15/20 minutes, until they starts to brown.
Recipe Comments