Zucchini parmigiana
2012-05-26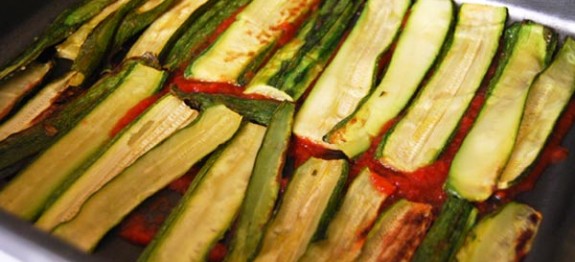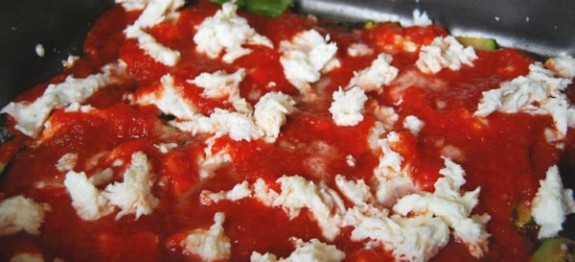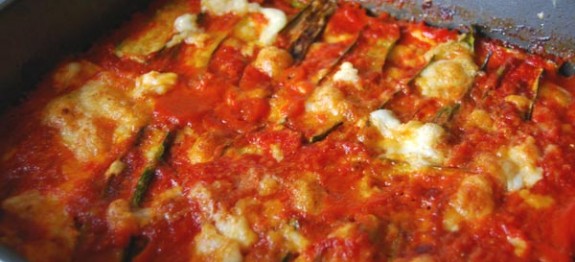 Servings :

4-6

Prep Time :

30m

Cook Time :

30m

Ready In :

60m
This is a variation of the very well know parmigiana with eggplants. I love zucchini and they give this recipe a nice flavor, fresh and unusual. The good thing about this kind of preparation, is that you can cook them whenever you have the time, then put it in the freezer and cook it whenever you want. Or, if you have guests, you can prepare it the day before, leave it in the fridge and put it in the oven, 1 hour prior to the arrival of your guests. As many other of my recipes are, this too is really light, so you can eat without any guilt.
Ingredients
1kg di zucchine 300gr di mozzarella 100gr di parmigiano grattugiato 500gr di passata rustica di pomodoro 1 cipolla peperoncino e sale q.b. Olio
300gr of mozzarella (please choose buffalo mozzarella or in any case a good quality one)
100gr of grated parmigiano or similar cheese
500gr of tomato puree
1 onion
salt and pepper to taste
extra virgin olive oil
Method
Step 1
Wash carefully the zucchini. Cut them into 4 mm slices lengthwise. Grease a big baking tray with a teaspoon of oil, then line the slices on top of it (if you don't have enough space feel free to overlap them a bit). Sprinkle with salt and a little oil. Put them in the oven, preheated at 220°C (390° F) for about 30 minutes. (when the zucchini are cooked, keep the oven at the same temperature to cook the parmigiana).
Step 2
While the zucchini are cooking, let's prepare the tomato sauce. Add a tablespoon of oil in a sauce pan and then add the onion and some chili pepper if you like. If you like the taste of the onion you can chop it into fine pieces otherwise, you can just cut it in half. Let it cook for a couple of minutes then add the tomato puree. Sprinkle some salt and mix well. Let it cook for about 15 minutes. (if you let it cook for ten minutes more you will have a perfect tomato sauce for every kind of pasta)
Step 3
As the vegetables and the sauce are cooked, take a baking tray and spread a couple of tablespoon of tomato sauce onto it. Line up the a layer of zucchini slices. Cover with a little sauce and sprinkle some parmigiano ad some mozzarella. Make two or three more layers (it depends on how big the tray is).End with tomato and mozzarella.
Step 4
Put it in the oven for about 30 minutes, or until it becomes golden brown.
Recipe Comments