Mascarpone quenelle
2012-09-25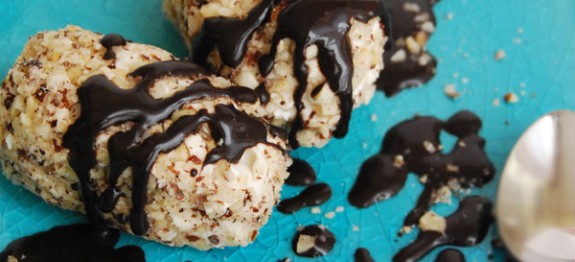 Servings :

4

Prep Time :

5m

Cook Time :

0m

Ready In :

5m
I love to do many things and, even when I invite someone, I don't want to spend too much time cooking, so every time I come up with an easy and quick menu. The dessert is usually something that implies baking, whisking, kneading.. or maybe not! This recipe is especially made for everyone who want to prepare a delicious dessert without any efforts.
It is perfect for sweets lovers and can be prepared differently each time by simply swapping one or two ingredients. Try it and you will create countless variety to suits your tastes.
SUGGESTIONS:
You can substitute the mascarpone with a soft cheese (the one you use for cheesecakes) if you want a ligher dessert. To make it taste like tiramisu you can add 1/2 teaspoon of grounded coffee into it.
You can also prepare a salty version as an appetizer by mixing mascarpone with gorgonzola or blue cheese, and by serving it on top of little crostini.
If you want a ligher texture whisk an egg white until it is very firm, then add it to the mascarpone gently by mixing from bottom to top. (this way you will get 6 servings)
Ingredients
250gr mascarpone cheese
4 1/2 tbsp of caster sugar
3 tbsp of grounded walnuts, nuts or pecan or almonds (which one you prefer, you could also mix them)
30gr of cocoa powder
1 tbsp of milk
Method
Step 1
Mix 4 tbsp of sugar with the mascarpone.
Step 2
Pour the grounded dried fruit over a dish.
Step 3
With a couple of spoons shape the quenelles and roll each one into the dried fruit to cover it completely. Serve a couple of dumplings per person.
Step 4
In a little cup dissolve the cocoa powder with 1/2 tbsp of sugar and the milk. Mix it until silky. Pour it over the quenelles.
Recipe Comments