Sea-bass skewers
2012-05-16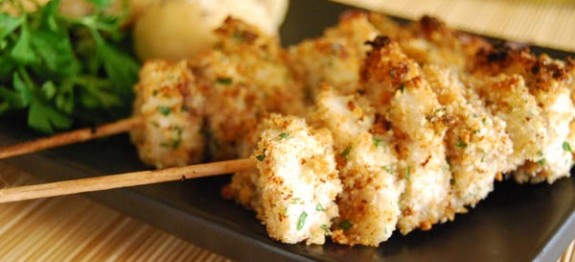 Servings :

4

Prep Time :

5m

Cook Time :

15m

Ready In :

20m
Who says that eating healthy should necessary mean eat something dull, with no flavor at all? This is a great example of how to prepare a dish that not only will be mouthwatering,but also allows you to be in shape and stay healthy.
The best thing is that you will need just few ingredients, and you will have a wonderful dish, perfect for parties and buffets, and summer dinners.
I hope  you will try this because is really really easy and fast to make.
Ingredients
2 sea-bass (or sea bream) fillets per person ( about 250gr)
80 gr of breadcrumbs
salt and pepper
1 grounded garlic clove or dried grounded garlic
parsley
2 tbsp of extra virgin olive oil
Method
Step 1
Simmer the wooden skewers for at least 20 minutes, so they will not burn in the oven. Preheat the oven at 200°C
Step 2
On a large plate pour the breadcrumbs, chopped parsley, garlic, salt and pepper. Chop the fillets into bite size pieces.
Step 3
Skewer the fish and coat it evenly with the mixture. Spread the oil on a baking tray and line the skewers on in.
Step 4
Cook in the oven for abou 20 minutes. They're ready when they are golden brown. Serve on a plate with some salad.
Recipe Comments