This is a very classic dish from Rome, if you go to every market in the heart for the city you will find each and every veggie stall selling "pomodori da riso" (literally tomatoes for rice).  These are big and plump tomatoes, perfect to be stuffed with rice, but don't worry, you don't have to use this particular tomato, you can use every kind of tomato you find, they just have to be at least 6 to 8cm in diameter.
This recipe is perfect to be prepared in advance,  romans will tell you that the next day it will be more tasty. I think this is the only case potatoes cooked in the oven are really good even when cold!
Stuffed tomatoes hacks
Got a slow cooker? You can actually use that to cook this recipe, you only want to quick broil the tomatoes and potatoes as soon s they're done, just to recreate that amazing crust on both. Once you've prepared to potatoes and stuffed the tomatoes, put all in the slow cooker and cook on low for 4 hours, then broil for 5 minutes and they're done!
You can use origano, rosemary, sage, thyme or basil. The classic recipe uses origano but that is really up to you and your tastebuds.
You could use a mix of your favorite spices, and I would add also a pinch of cayenne pepper to add a kick that will also help boosting your metabolism.
Tomatoes Health facts
Tomatoes are rich in lycopene, an antioxidant that will help you boost your metabolism and also protect your DNA from UV damage. Check the many benefits of tomatoes here on Dr. William Li's website. Lycopene is fat-soluble, meaning it will be best absorbed by the body when eaten with oil, so you want to eat your tomatoes with a good source of fat, such as a very good quality extra virgin olive oil.
Let's stop the talking and go straight into the recipe!
Ingredients
6 big tomatoes
250gr of rice
800gr of potatoes
2 cloves garlic
salt, pepper, origano
extra virgin olive oil
Method
Step 1
First you have to peel the potatoes and cut them into chunks. Wash them well and soak them for 10 minutes. Cook the rice in a sauce pan for 5 minutes, with 600ml of water and a generous sprinkle of salt. The rice will finish cooking in the oven.
Step 2
Wash well the tomatoes and remove the upper parts, put them aside and with a teaspoon remove the pulp and put it into a bowl. Cover again the tomatoes with their caps and set them aside. Chop finely the bigger chunks of tomato pulp and put them back into the bowl, add salt pepper and origano to taste. Don't add oil to the stuffing otherwise the tomatoes will break while cooking.
Step 3
Drain the potatoes and pour them into a baking tray, add salt and 2 tablespoon of oil and mix well with your hands until they're coated evenly. Drain well the rice ( if it's too moist the tomatoes will break) and pour it into the bowl. Mix well and then use it to stuff the tomatoes.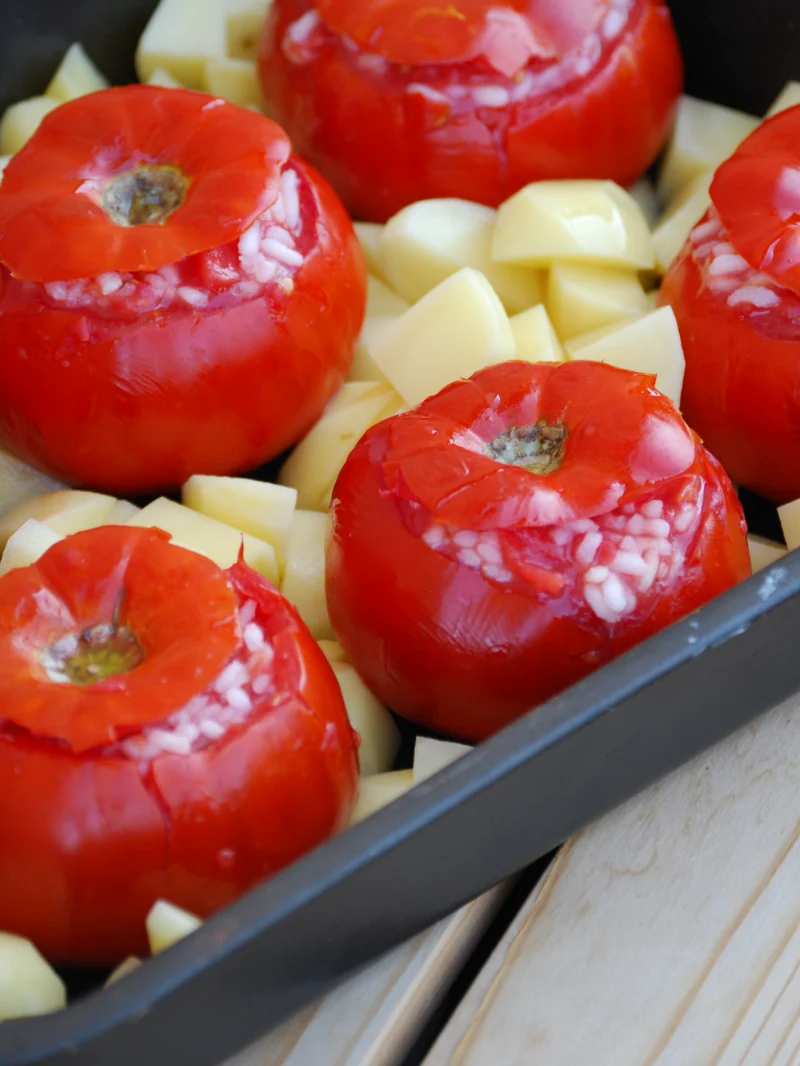 Step 4
Crack the garlic cloves and put them in the tray, place the stuffed tomatoes in the tray and cook in the oven at 200°C for at least 45 minutes. Check the cooking point of the potatoes and mix them after 30 minutes. They will become crispy and golden brown. Let it cool down and serve lukewarm or cold.
You can choose to season the rice with other ingredients if you like.