When I was a little girl this recipe was one of my favorite. It's called in Italian "Ciambelline al vino" – small wine rings. These recipe from the Castelli Romani area south of Rome, is very ancient and was also called "'mbriachelle", literally "drunk" since they're made with wine, but don't worry, you won't be eating alcohol.
I remember  it was easy and funny, perfect for a child! The taste, I assure you, is really amazing. These ring-shaped cookies are often eaten, by adults, dipped in red wine and by children dipped in milk.
You'll find these cookies especially in local fairs and old bakeries, where traditional recipes are the most sold items. Anytime I see them I think about my childhood, and how beautiful it was to prepare my own cookies.
Cookies,  healthy snacks and children
Nowadays children are too much into packed snacks, ultra processed sugary foods that packed with sugar and preservatives (even the so-called "healthy" or "vegan" ones). This tendency is one of the culprit in the rise of child obesity (in the Med as well) and a plethora of health problems. People think that cooking at home is difficult, that you need specific skills to do it and you need a lot of time, however there are a huge variety of recipes that can be made in no time and will certainly be healthier and tastier. Moreover this is one of those recipes that you can enjoy making with kids.
Even though these cookies are not low in sugar, or packed with nutrients, they're still much better than a store-bought product made of ingredients you cannot even pronounce. Preservative, taste enhancers, additives, salt and sugar is what's in those packed snacks a food that will make you crave for more.
To make this recipes healthier you can use raw sugar and whole wheat flour, this will give a boost of fibers and some minerals. You also won't find trans fats or saturated fats here, only extra virgin olive oil, rich in unsaturated fats (omega 3) and hydroxytyrosol, an antioxidant that helps our heart in fighting cardiovascular diseases, helps our skin and also has been found helpful in preventing cancer.
If you also use the anise in the recipe (you'll be making "Ciambelline all'anice") and you'll be adding some good minerals like manganese, iron and also calcium.
Even tough people may think that I've lost my mind suggesting that a wine cookie can be for kids, think again! The wine evaporates when cooking and what remains in the cookie is only the taste, no alcohol residue!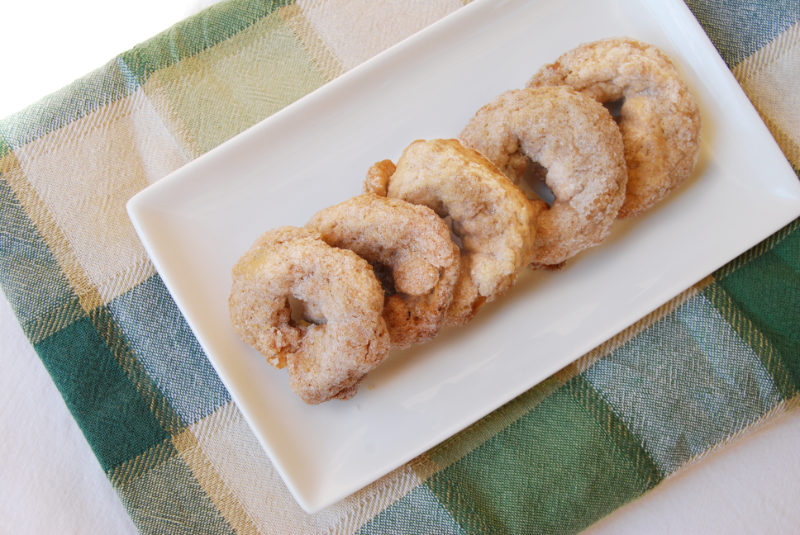 The classic recipe for these cookies is measured in "glasses", I know that maybe sound strange, however we're talking about a very ancient recipe and scales were not easily found in old households, whereas regular drinking glasses were mostly the same size everywhere. It usually calls for 1 glass for each moist ingredient and the sugar, the flour instead may vary slightly. I usually try to reduce the sugar content as much as I can, and this recipe below is as good as the original one but with a slightly reduced content of oil and sugar.
A regular drinking glass usually contains around 250ml of water, so this measurement can be easily adapted to cups.
TIPS
When using whole wheat you may need slightly less flour, since the fibers will absorb more liquid.
Ingredients
1 cup of wine (any will do, traditionally it's used a wine from the Castelli Romani area)
3/4 cup of extra virgin olive oil
3/4 cup of sugar
regular or whole wheat flour (I used about 350gr, but it depends on many factors such as humidity, temperature, etc ) you can use either one or a mix of the two
a pinch of baking soda
anise seeds (optional)
Method
Step 1
Preheat the oven at 180°C. In a bowl mix the wine, the oil and 1/2 cup of sugar.
Step 2
Mix 200gr of flour with the baking soda and then add it a little at a time, adding more until the dough becomes enough thick and silky to be rolled into cylinders.
Step 3
Pour the remaining sugar on a plate, and cover a large baking tray with parchment paper. Roll little pieces of though and shape them into doughnuts. Place each cookie on the plate with the sugar and coat it evenly. Line the cookies in the tray.
Step 4
Bake for 15/20 minutes, until they starts to brown a bit, cool on a cooling rack.
These cookies can be stored in an air tight container for weeks (but I doubt they would last that long..)