This is a dish that perfectly represents the summer, it's refreshing, very very mouthwatering and really easy, it takes a little time to prepare it though, but you can do it even the day before, so don't worry, I assure you it's really worth it, if you like the classic Italian taste. You will also discover that is a super light, diet friendly dish.
Where I live, 30km north from Rome, the climate is quite perfect and even in April you can have your dinner outside on the terrace, plus I'm very lucky because from spring to fall I can enjoy wonderful sunsets with a view on the old etruscan city of Cerveteri, it is really great! The mild climate allows for tasty vegetables to grow in the fields around the area, and tomatoes are one of them. Starting from late May and early June you can buy fresh tomatoes grown locally, that are harvested only when really mature, unlike those you can find in the supermarket, that to often travel long distances and are harvested when not fully ripen.
Perfect pairing for stuffed cherry tomatoes
This recipe is a perfect side dish for a barbecue, it goes well either with a steak, some sausages, and hamburger or with grilled fish, but it is also perfect for a buffet, or a party.
I recommend using only  cherry tomatoes, because their size balances the flavors of the filling with the taste of the tomatoes and also, it keeps them from breaking apart.
If you use bigger ones, you will need more filling and this can cover all the delicate flavors of the roasted tomatoes.
Health facts
We already know that tomatoes are a great source of vitamins and lycopene, the antioxidant that protects our DNA and helps us fight fat, and prevent aging, but this recipe also incluse capers, rich in quercitin another antioxidant that is very important for our health and anchovies, that are rich in omega 3 fatty acids. Furthermore the garlic, rich in nutrients, is also an important prebiotic, to help our microbiome thrive.
This dish not only is very tasty but it is the proof that healthy food does not have to be bland, in fact this is very tasty and will surely please your tastebuds!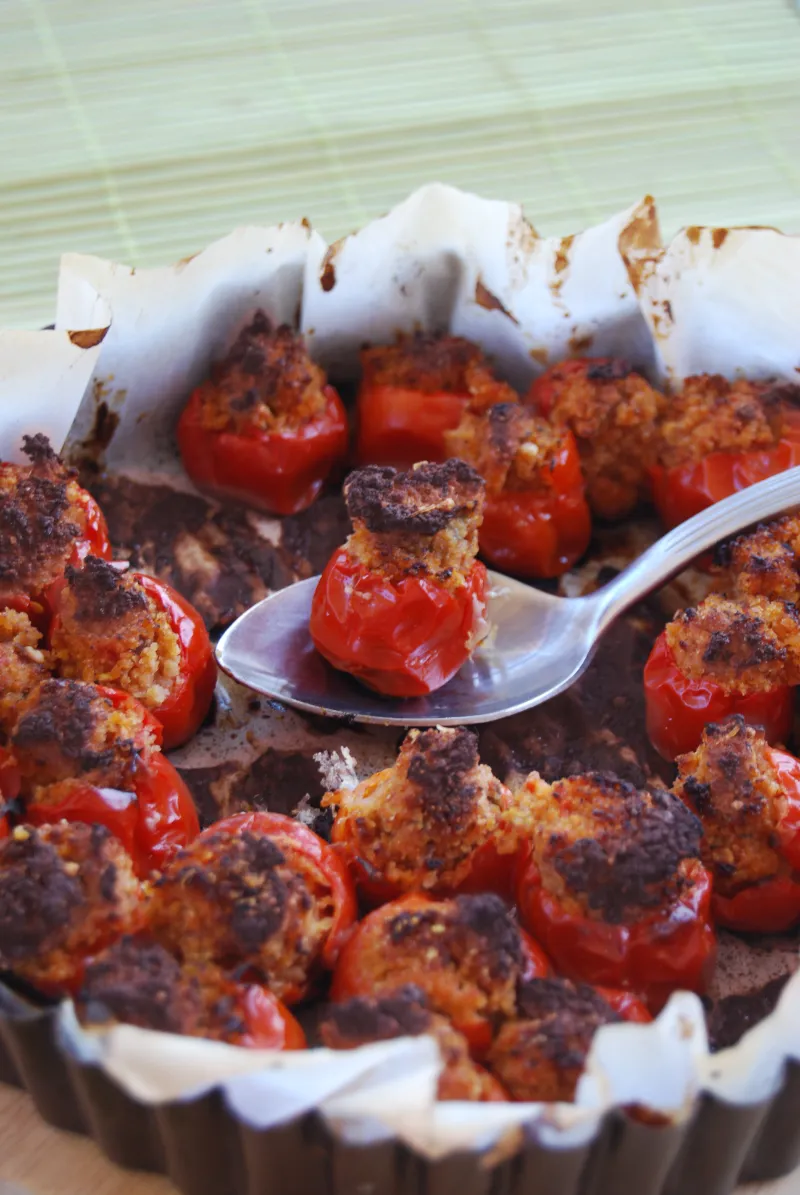 Ingredients
500gr of cherry tomatoes
1 tbsp preserved capers washed and drained
1 tbsp of olives
1 tbsp of parmigiano
1 garlic clove
4 tbsp of breadcrumbs
6/7 anchovies (in oil)
salt and pepper to taste
extra virgin olive oil
Method
Step 1
First we are going to prepare the filling. Chop the garlic finely or use a garlic masher. With a kitchen paper remove the excess oil from the anchovies and chop them finely. Chop also the capers  and the olives.
Step 2
Preheat the oven at 220°C (400°F). In a bowl mix all the chopped ingredients and add the breadcrumbs and the parmigiano.
Step 3
Wash the tomatoes and remove the upper part where the stem is attached. Empty the cherry tomatoes with a teaspoon gently, to avoid breaking them. Put the inside of the tomatoes in the bowl with the rest of the ingredients.
Step 4
Cover the baking tray with the parchment paper. Sprinkle a little salt on the empty tomatoes. Fill them with half a teaspoon each (leave some space and do not overfill the tomatoes, while cooking they will shrink a little and you may end up with a bit of a mess), and place them on the tray. Sprinkle with just a bit of salt and pepper and a tablespoon or two of olive oil.
Step 5
Cook in the oven for about 45 to 50 minute or until they have become golden brown. Beware not to overcook the tomatoes, they will become too soft and will loose the perfect texture.