This is the base to make a classic Italian bread dough. You can start from this and create many other types, such as olive bread or rosemary bread, you just need to add your personal ingredient: fantasy.
Don't expect to make a perfect Italian bread dough from the very first time, unfortunately bread and pizza dough vary according to the weather, if it's too cold, it will take more time to ferment, if it's too hot it could ferment too fast, too much humidity in the air? you'll need different amount of flour. As  you will see, same ingredients and same way of preparation could easily bring you to different results. Anyway, don't worry, your bread dough will always be very good! Those variations got nothing to do with the taste, but only with how the bread will look like or rise.
Sourdough starter
Unless you are buying bread at a supermarket or in some chain or big bakeries, bread is usually made with a sourdough starter in Italy, especially in the countryside, in traditional households where nonnas are busy doing basically everything by hand even at 90.
In this recipe I won't be using sourdough because, even thought it is the best way to rise your bread, sourdough can be tricky for beginners and my goal is to share the simple Italian taste with everyone, even first timers.
I'll provide tips for using it below for those who are more accustomed to use a starter rather than a yeast. And anyway there are a few tricks you can master to have a nice, easy to digest bread, even without sourdough. The first and most important is TIME.
If you have time (and you should always have when baking bread) you won't need super rapid yeast or something like this. Just 1 gr of simple yeast will to the job.
Let's start making a fantastic Italian bread dough:
First thing to know: quantities. I will give you the ingredient list, however due to the weather, the type of flour you will use, how hot are. your hands when kneading and many other factors, some quantities might change, so remember that the most important thing is to see and check the dough, not to follow the recipe too accurately. To achieve a perfect italian bread dough you will definitely need a bit of patience.
Ingredients
350gr of stone milled whole wheat flour (the best quality you can get)
300gr of durum wheat flour or extrafine semolina (you may substitute it with whole wheat or even an all purpose flour, if you are more expert you can use whole wheat flour, or other flours like oat, or spelt)
1g of dried bread yeast (not the quick rise, simple dried yeast) – if you are using sourdough, use skip the first step, and add 100gr of sourdough to all the ingredients in step 2.
400gr of water
1 tsp of salt
Method
Step 1 (the night before)
Mix together the yeast, 100gr of water and 100gr of whole wheat flour. Cover and let it sit overnight (if you are doing it in the morning let it sit until it doubles in size)
Step 2
In a large bowl put the rest of the water, and the flour, but keep around 100gr aside. Mix the dough with a spoon or with your hands (remember to remove any rings and nail varnish), if it is too loose, add the remaining flour. Always keep some flour handy, in case you need to add some more.
Step 3
Knead the dough for a couple of minutes until then cover the bowl and let it sit for somewhere from 30min to 1 hour (3 hours will be ok too – unless it is too hot, then 30 min. will do).
Step 4
After resting the dough, start again to knead it a bit in the bowl. As you knead you'll find the dough become more and more elastic. Roll it into a ball then cover again and put in the fridge to rest for 6 to 12 hours.

Step 5
Remove the dough from the fridge, knead it a bit, shape it into a log onto a baking tray dusted with flour, and let it sit until it has risen almost to double its size.
Step 6
While the dough is rising, preheat your oven to 250°C (480F). When the bread is ready to go in the oven, score the surface with a sharp knife (at least 2/3cm deep). Put it in the oven for 10min then lower the heat to around 180°C (350F) and cook for another 30 to 40 minutes. Check the bread after 30 minutes, everyone's oven is different so it might need less or more time.
Step 7
Let the bread cool down completely before cutting it.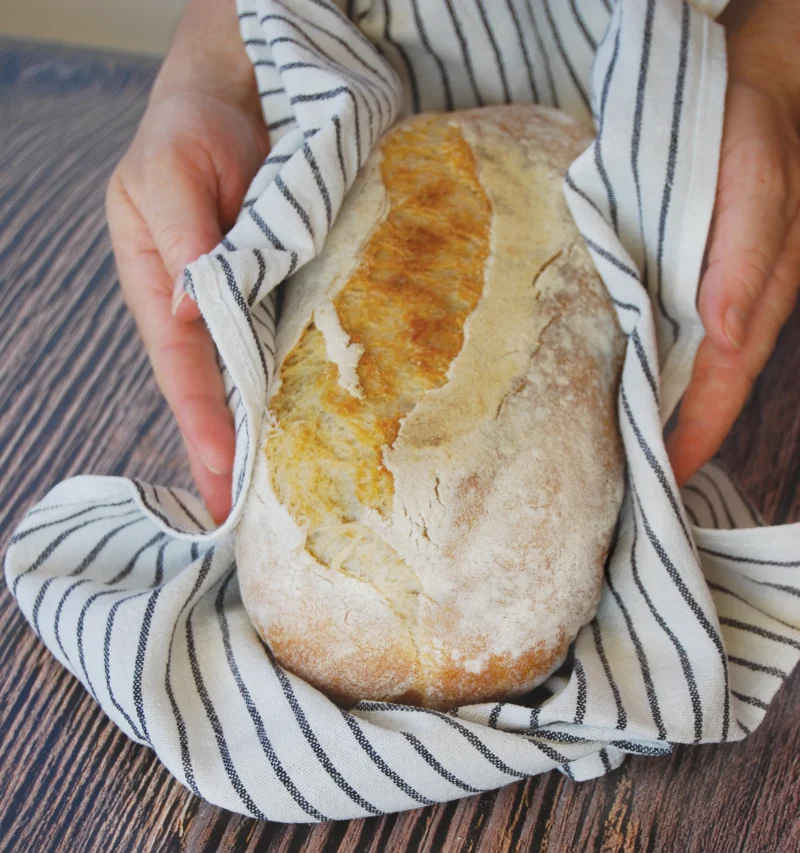 How do I store the bread?
This bread can be stored at room temperature for days, however in hot summer days or very hot climate (over 30°)  I would recommend to keep it in the fridge to avoid drying.
My bread has become too hard and it has dried, what do I do?
Well, there is an amazing recipe called Panzanella, from Tuscany, it is a salad  you can make by mixing stale bread that has been rehydrated with water and vinegar, tomatoes, red onions, basil and cucumbers, or you can whizz it in a blender to make breadcrumbs.